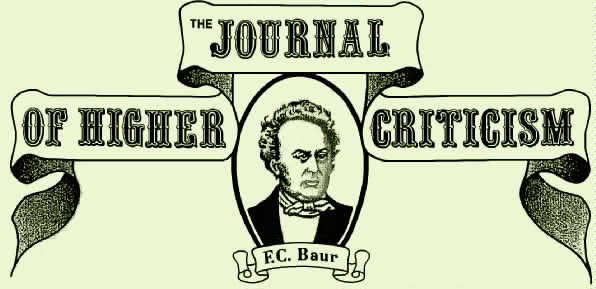 This Publication May be Hazardous to Your Cherished Assumptions!
The Journal of Higher Criticism was initiated in 1994 as a forthright attempt - in a time of scholarly neo-conservatism - to hark back to the bold historical hypotheses and critical interpretations associated with the great names of F. C. Baur and Tübingen. We presented articles dealing with historical, literary, and history-of-religion issues from the perspective of higher criticism. The Higher Critical Review, appearing in each issue of the Journal, featured detailed review essays on important new works relating to historical criticism. The Journal of Higher Criticism was published semi-annually, Spring and Fall. The Editor was Robert M. Price; The Associate Editor was Darrell J. Doughty. The final issue of the Journal (Volume 10, No. 2) appeared in fall, 2003.
Introducing the Journal of Higher Criticism
Robert M. Price

JHC Articles You Can Read Now,
plus classic articles by Baur, van Manen, and others.
Reviewed by Earl Doherty





Index of Back Issues

Index of Authors

Index of Reviews
| | |
| --- | --- |
| | THE INSTITUTE FOR HIGHER CRITICAL STUDIES |

Articles You Can Read Now
Higher Critical Review

Related Websites
Peter Kirby's Early Christian Writings Site
Earl Doherty's "Was there a Historical Jesus?" Site (Great Site!)
Center for Marcionite Research
Hermann Detering's Radical Criticism Site (mostly in German)
Westar Institute Jesus Seminar

Talk to us! We appreciate your comments
This amazing site has now been enjoyed by
visitors.


Last modified March 7, 2005
Copyright © Institute for Higher Critical Studies, 1998

Darrell J. Doughty
Institute for Higher Critical Studies
ddoughty@drew.edu