Go To




Drew University Department of Music
Campus & Beyond Programs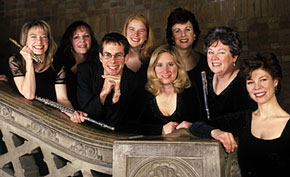 UpTown Flutes, a dynamic professional flute ensemble-in-residence at Drew University in Madison, NJ presents original works and arrangements composed for the entire family of flutes: piccolo, C flute, alto and bass flutes. UpTown Flutes actively commissions and is dedicated to bringing new music to a wider audience. The group's innovative programming features varying ensemble sizes, genres, styles, and historical periods as well as collaboration with other instruments such as harp and percussion. UpTown Flutes' debut CD, "A Flute Renaissance," reflects the group's wide spectrum of repertoire.
For information about our upcoming performances,
take a look at our calendar.
Our photograph was taken by Judi Benvenuti. Visit Judi's web site at www.judibenvenuti.com
"...spectacular...great vitality, virtuosity, and mastery..."--Ricky Lombardo, Composer
"...an amazing tour de force of ensemble and solo playing"--Darryl Kubian, Violinist, New Jersey Symphony Orchestra
"UpTown Flutes...is one of the best groups I've heard all year...UpTown Flutes deserves major attention as they are top-notch and one of a kind."--Anthony Aibel, NY Concert Review, Fall 2002

Read this and more reviews