---
Home
History
Mission & Vision
Our Programs
Sponsors
Donations
Links
Alumnae/i
Faculty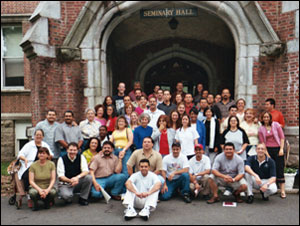 The Hispanic Summer Program (HSP) has had already near a thousand students, Hispanic seminarians for their most part, with roots in near 20 Latin American countries – besides Puerto Rico, Canada, and the United States – and belonging to an enormous variety of denominations: Roman Catholic, Pentecostal, Evangelical, and mainline Protestant.
A significant number of this student body find themselves today at the helm of a wide variety of congregations, denominational offices, university professorships, and/or high administrative posts in seminaries and universities. Several of our alumni/ae have pursued doctorates in theology and/or religion, and have come back to the HSP – invited to be part of our faculty!!!
In this new stage of the history of the HSP – as we enter our third decade of existence and service – we would love to reconnect with ALL of our former students. We have begun drafting a directory of our alumnae/i, but, on the one hand, not all the listings of students of earlier summers are available, and, on the other hand, even with such listings at hand, the data therein (addresses, phone numbers, e-mails, etc.) is often obsolete.
Thus, if you were once a student of the HSP, please send us your data as well as those news of your life that you would like to share through this section of our website – and, likewise, if you happen to be in touch with other people who studied in our Program, please nudge them to write us, to send us their data and share with us their news!!! You may e-mail us at hspassistant@gmail.com, hsprogram@gmail.com, and/or hspdirector@gmail.com
We are immensely grateful for your help to our common effort to rebuild this growing community of faith, life, love, and hope which is the Hispanic Summer Program.
P.S.: If, by any chance, you happen to work in a theological school, seminary, or university department of theology and/or religion which is not yet among our sponsors, give us a hand in persuading them to help other people to enjoy the benefits you received by participating in the HSP. OK?