---
Home
History
Mission & Vision
Our Programs
Sponsors
Donations
Links
Alumnae/i
Faculty

What the Hispanic Summer Program set out to achieve from its inception in 1988 was to supplement and enrich the theological and ministerial education being offered in seminaries and universities, with academic courses and other activities directly addressing Hispanic history, ministry, and theology.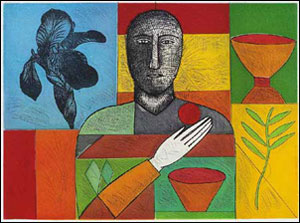 As an ecumenical program it seeks to heal the divisions in the Latina/o community fueled by denominational and theological differences. As a Hispanic program, the HSP tries to find ways to restore connections and build bridges between Hispanics and non-Hispanics – among others by enhancing the awareness and appreciation that non-Hispanic scholars, ministers, and administrators have of Latina/o contributions to the past, present, and future of our churches and our nation.
Accordingly, the HSP strives to achieve these objectives:
To provide a Hispanic environment as an alternative educational experience in theology and religion primarily, but by no means exclusively, for Latina/o students from seminaries, universities, and other programs of higher education where there is a dearth of Hispanic faculty.
To influence the system of theological education in the United States, Canada, and Puerto Rico, so that it finds new ways of both benefiting from, and responding to, the opportunities offered by the burgeoning Latina/o community, by its scholars, ministers, and leaders.
To create spaces for the theological and ministerial education of Hispanic women in particular, and of minority students in general.
To promote ecumenical understanding and collaboration among current and future Hispanic leaders of different denominations and theological traditions – as well as between Hispanic and non-Hispanic students, faculty, ministers, and administrators in the churches and in academia.
The Hispanic Summer Program was born, and continues to thrive, with certain traits that have been considered essential from the outset:
It must be academically sound. Every session's credits are awarded by an ATS-accredited institution, which also appoints the HSP faculty as adjuncts for the summer, and approves the courses for credit. The student body is composed primarily of regularly enrolled students in ATS-accredited institutions (in M. Div., D. Min., and other programs), although there are always a number of participants pursuing continuing education, Ph.D. students who desire an opportunity to work with a particular professor, teachers in Bible colleges and Bible Institutes, etc. Our faculty must meet the highest academic standards. All faculty members of the Hispanic Summer Program are either currently teaching in accredited seminaries or universities, or fully qualified to do so. The host institution gives academic credits for the courses and these credits are transferred to the institution in which each student is enrolled. (The academic impact of the Hispanic Summer Program has been outstanding. More than half of all Latinas/os enrolled in, or recently graduated from, PhD or equivalent degrees in theology/religion are alumnae/i of our program).
The program must be gender-inclusive in both its faculty and student body. The usual proportion is nowadays near 59% men/41% women. Although not our ideal, it is indeed much better than the actual percentages for Hispanic seminarians and students of theology in the United States, Canada, and Puerto Rico. (Also on this score the program has had significant success. We know that, of the few Latinas who have recently completed PhDs in religion, several are HSP alumnae).
It must be ecumenical. The Hispanic Summer Program has always had a significant number of students from all denominational families: Roman Catholic, Protestant, Evangelicals, and Pentecostals. We strive to honor this diversity not only through our recruitment & admission process, but also by carefully hiring a denominationally diverse faculty, rotating annually the program among host institutions of different denominational families, building a theologically varied curriculum, and shaping worship experiences which foment respect for, and dialogue among, our different church traditions.
It must be itinerant, not tying itself to any single region of the U.S., or to any particular Hispanic community. Thus, the HSP travels each year to a different place of the U.S., Canada, or Puerto Rico, and subsidizes most students' travel, to guarantee that no one region, denomination, or national origin predominates in its midst.
It should promote an intercultural Hispanic pedagogy among the students, faculty, and administrators of the program, which serves as both a model and a motivation for our churches and the academy.
This is our vision in order to fulfill our mission: please join us in continuing to improve the HSP as an efficient, excellent service to our communities. Thank you!