---
Home
History
Mission & Vision
Our Programs
Sponsors
Donations
Links
Alumnae/i
Faculty

Whereas the numbers of Latina/o students entering seminaries and graduate programs in theology & religion in the U.S. and Canada are growing exponentially, they often face the absence or scarcity of Hispanic faculty in those same institutions.
That is one of the reasons why so many Latina/o women and men aspiring to a degree from those institutions end up either giving up – even before applying – or finishing with a sense of frustration, with an education quite alienated from their background, their communities, and their interests.
This is one of the crucial reasons why the Hispanic Summer Program was created.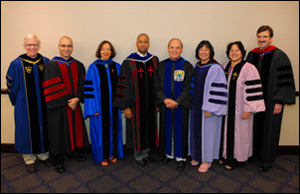 Since 1989 we have made it already possible for over 100 Latina/o scholars – usually isolated from other Hispanic colleagues in as many institutions dispersed across the U.S., Canada, and Puerto Rico – to gather in groups of 8-10 for two intensive weeks, in fellowship with Latina/o faculty of both genders from different institutions, ages, denominations, regions, disciplines, theological traditions, and national origins. We have repeatedly heard the expressions of unique fulfillment that this experience has brought to our faculty – with many asking to be invited to teach again in the HSP in the future.
As the number and quality of Hispanics with a Ph.D. in theological and/or religious studies steadily grows in the U.S., Canada, and Puerto Rico, the Hispanic Summer Program has followed the tendency of our sponsoring institutions: we require of our faculty not only a Ph.D., but also demonstration of superior scholarship and teaching abilities, as well as a deep commitment to the Latina/o Christian community.
Many of our alumni/ae are now in the faculty of colleges, universities, and seminaries across North America, Latin America, and the Caribbean. Their names, plus those of newer and older Hispanic scholars that have not yet taught (or studied) in our Program, are now compiled in a listing of over 200 Latina/o scholars in theology and religion living and teaching in the U.S., Canada, and Puerto Rico. Our project is to hire in the next 20 years at least another 100 of them to teach for their first time in the Hispanic Summer Program – while at times re-hiring one or two of those colleagues who have already taught in the HSP in the last two decades.
Since its inception, over 100 Latina/o scholars have taught more than 150 courses to over 1,000 students at the HSP. We have now another 100+ Hispanic faculty listed to teach with us in the next 20 years.
This is part of our vision: to ensure that our faculty reflects, models, and witnesses to the rich diversity of our students, congregations, and communities – in terms of their gender, ethnic roots, denominational allegiances, theological tendencies, disciplinary expertise, generational location, academic seniority, national origins, and institutional affiliations.
If you know a scholar who shares in these traits and has not yet come to our attention, please let us know ASAP: we will include her/him immediately in our roster of future faculty!